We had a wonderful Thanksgiving with our family. I hope you did too! I did not get a single picture that day but it was a busy and fun one. After eating turkey our little family of three hopped in the minivan and headed for the Pigeon Forge/Gatlinburg, TN area.
We had decided a couple months back that we wanted to take advantage of the long weekend and go on a little family vacation. We had an interesting trip and by interesting I mean.....some fun times and some really not fun times. Jonah only slept 30 minutes on the ride there (5 hours) and was running a low-grade fever. We thought maybe he was working on some molars because he always has a low-grade fever with his teeth. After we got to our room that night and gave Jonah a bath and put him to bed he woke up shortly very upset and was very warm. He then proceeded to throw-up. Michael was holding him at the edge of the bed and it went ALL over him. I felt so bad for both of them! Sorry for anyone with a weak stomach.
We checked him and his fever was at 103! He was also wearing one of those fleece one-piece pajamas so I immediately took him out of that and it came down and then we gave him more medicine for the fever. It eventually went down with the medicine and he got some rest but we had a mess to clean up that night and Michael had to just take a shower. Looking back we are glad he caught the brunt of it and not the bed, pnp or carpet.
We had planned to go to the Ripley's Aquarium that next morning but we felt we should wait and see how Jonah was feeling. He was in a good mood despite still having a fever and having to keep meds in him for that. We decided to forgo the aquarium that day and just hang out near our room in case he felt bad again. He would not eat much besides fishes and water. We considered going home but he never threw up again and the fever was reduced by the meds so we decided to make the best of it since we had the room for 3 nights.
The first day we took a ride on the trolley through town. Jonah was excited to get to ride on a "school bus." He did so good and loved looking out the window and eating his fishes. About halfway through the trolley ride, he fell fast asleep sitting up and Michael grabbed him and put him in his lap. He was so tired. I did a little shopping at the Carter's outlet while Jonah napped and then we got lunch. Jonah still would not eat any of the normal things he likes (fruit, banana, pb crackers, oatmeal, french fries). So we looked like the bad parents just munching away while our child sat without any food. Ugh!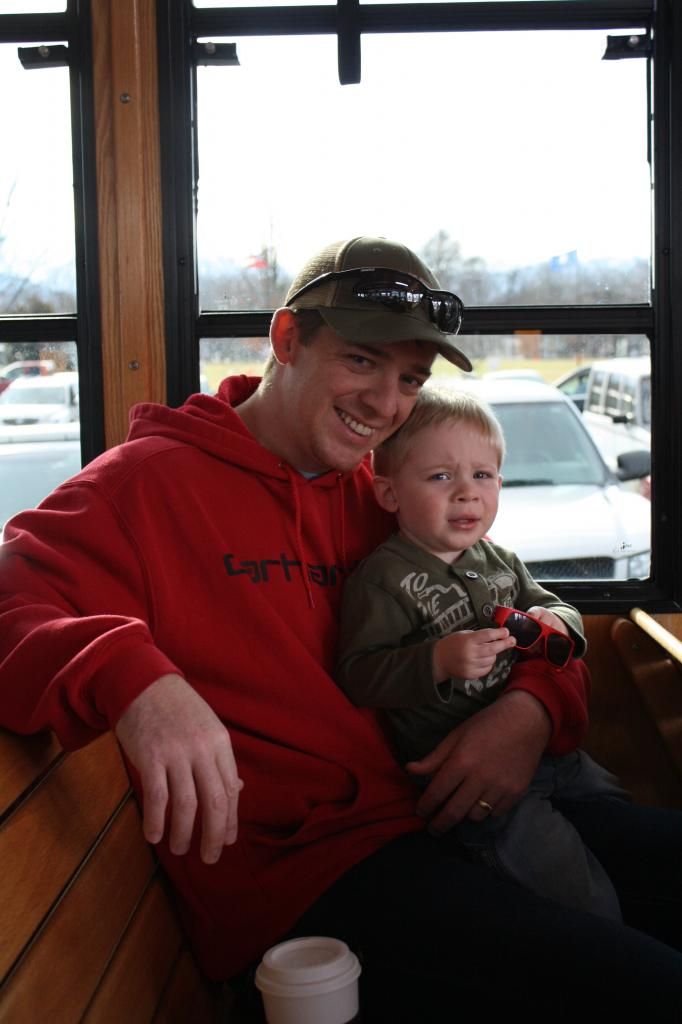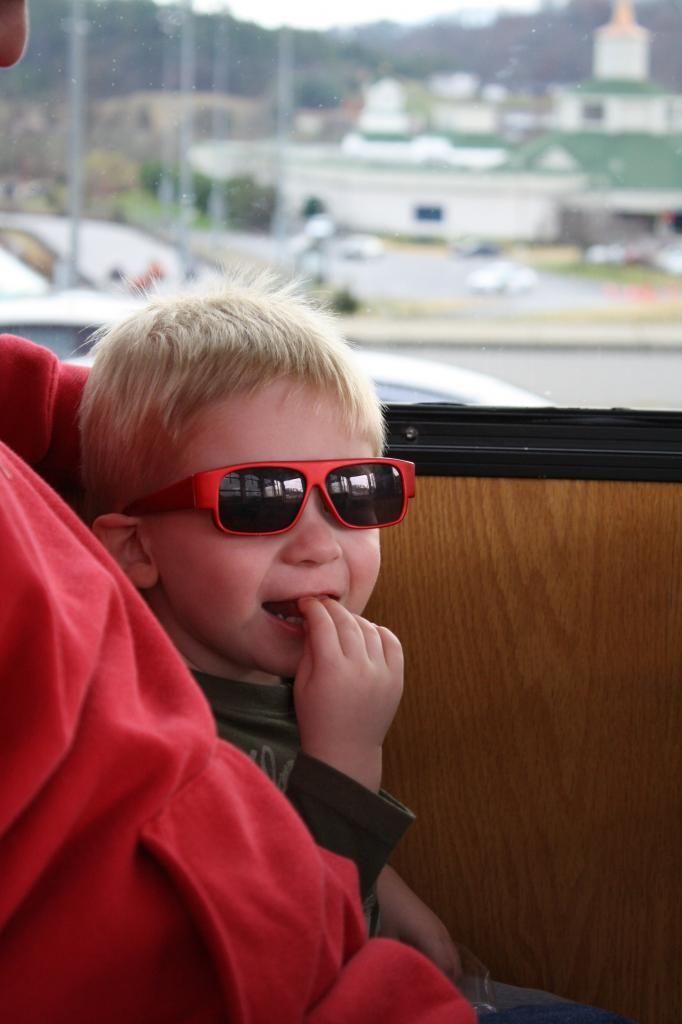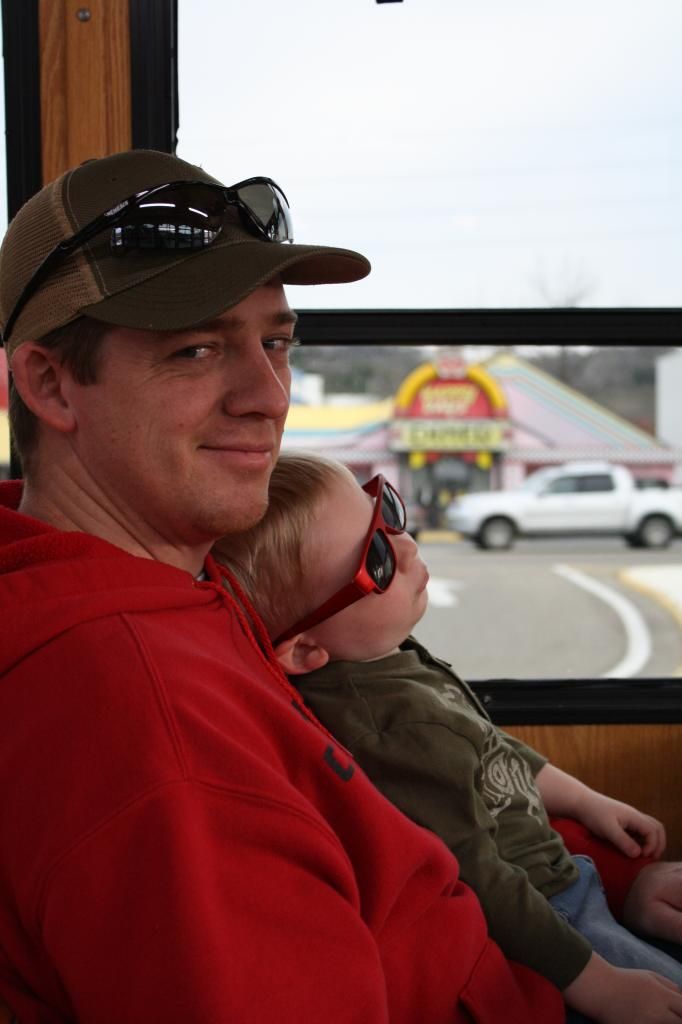 We also went to visit the geese near the Old Mill area down by the river. Jonah liked watching them but didn't want them to get too close. It was chilly but not freezing that day and he felt up to walking around. There were a ton of pigeons that would fly down to the banks where we were and just walk right around us. It was freaky because they would all of sudden just take off in flight and scare us. Jonah would just laugh and laugh when they took off and it spooked him. We got a few pictures down there too.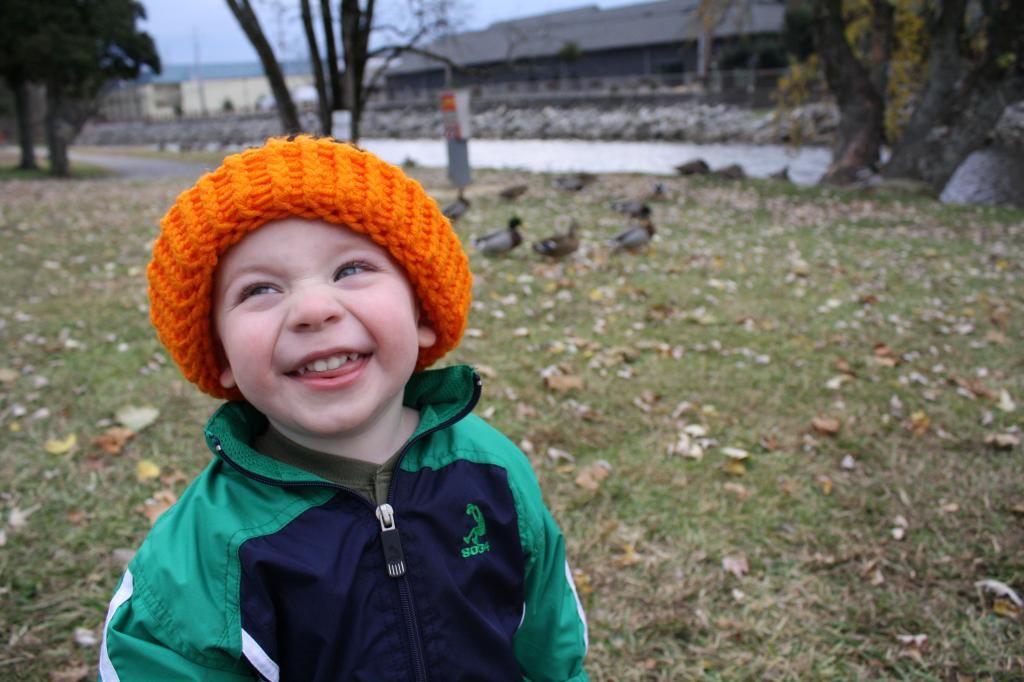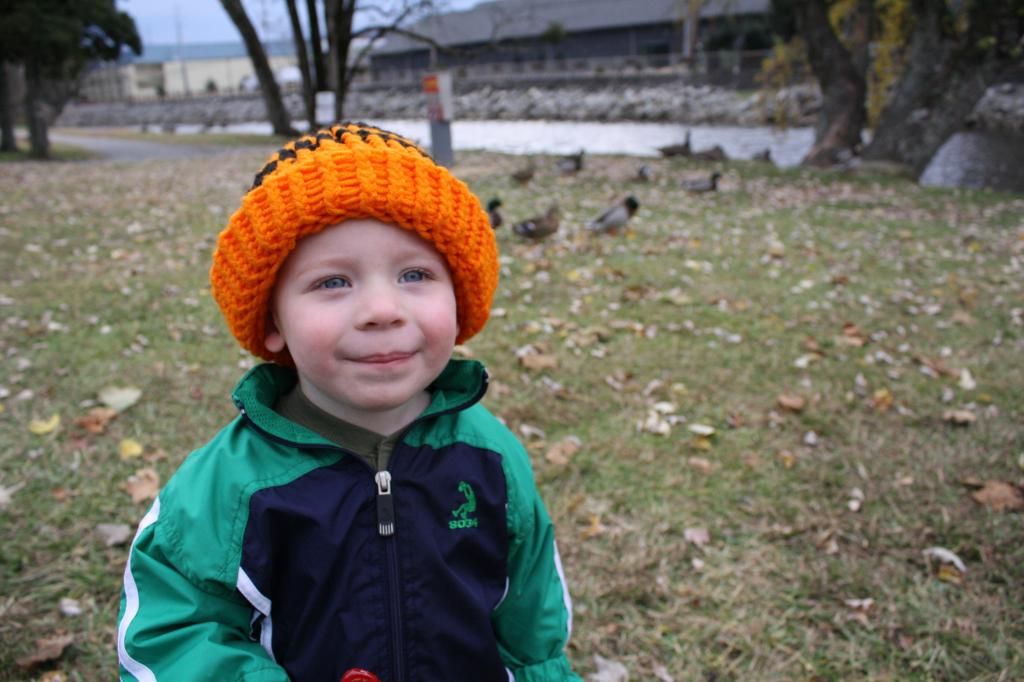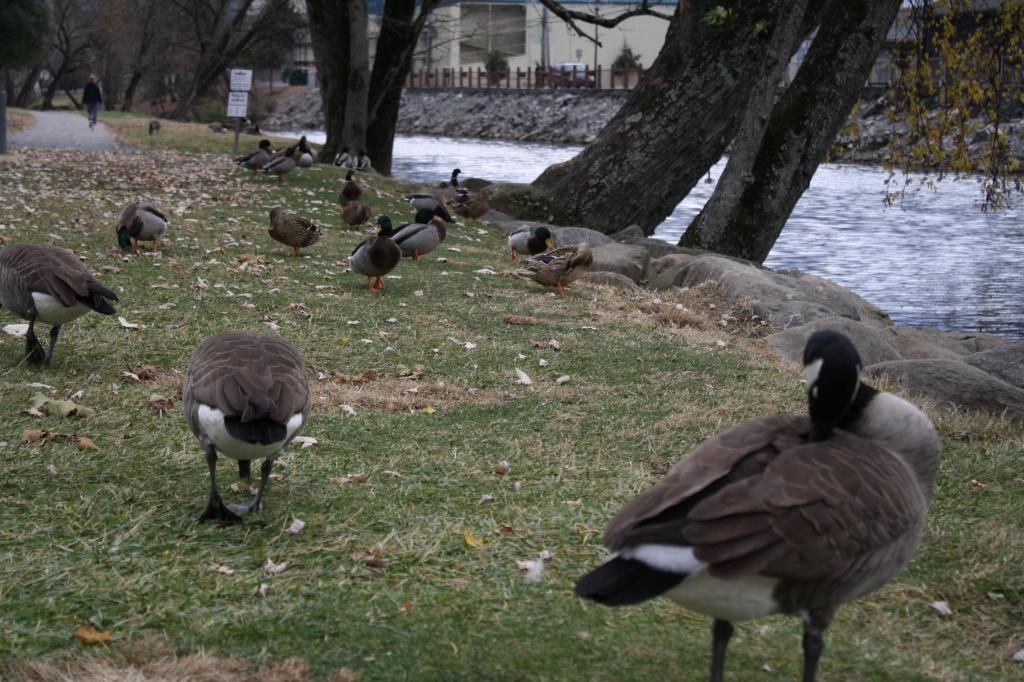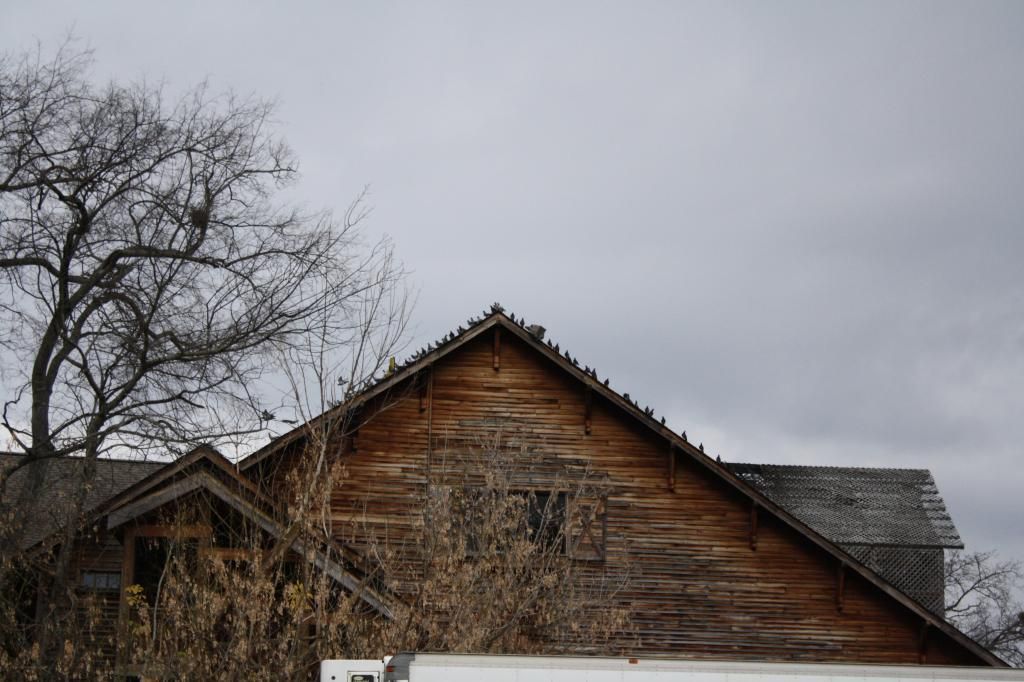 Those pesky pigeons.
The mountains looked especially smokey on this day.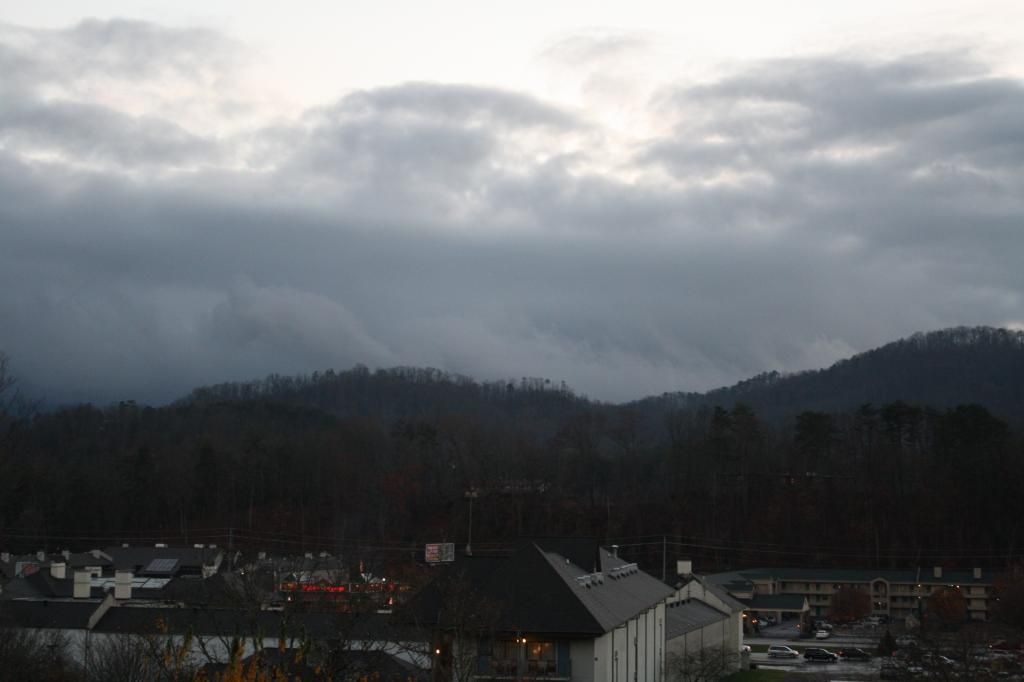 That night was not too bad but Jonah starting having a hard time breathing with his stuffy head. He likes to breath through his nose when he sleeps so that was the problem and he still kept getting a fever so we had to get up and give medicine in the night. The next day we went to the aquarium and basically Jonah liked the first part as you come in the door where they had a big tank of little fishes and it was nice and bright. After that all the places were very dark and they had loud music playing throughout it. He really hated the rest of the aquarium and we just struggled through since we had payed $60 to get in. He was pretty much miserable. Also it was SO crowded. We had no idea it would be like that or we would have known he wouldn't like it with the darkness and loud music. It was definitely better for older kids. We won't go back for a while. Oh well....live and learn. He was so ready to leave and so were we. The rest of that day was spend relaxing at the room and napping and then going out to eat. Jonah seemed to feel some better but that darn fever came back again at bedtime.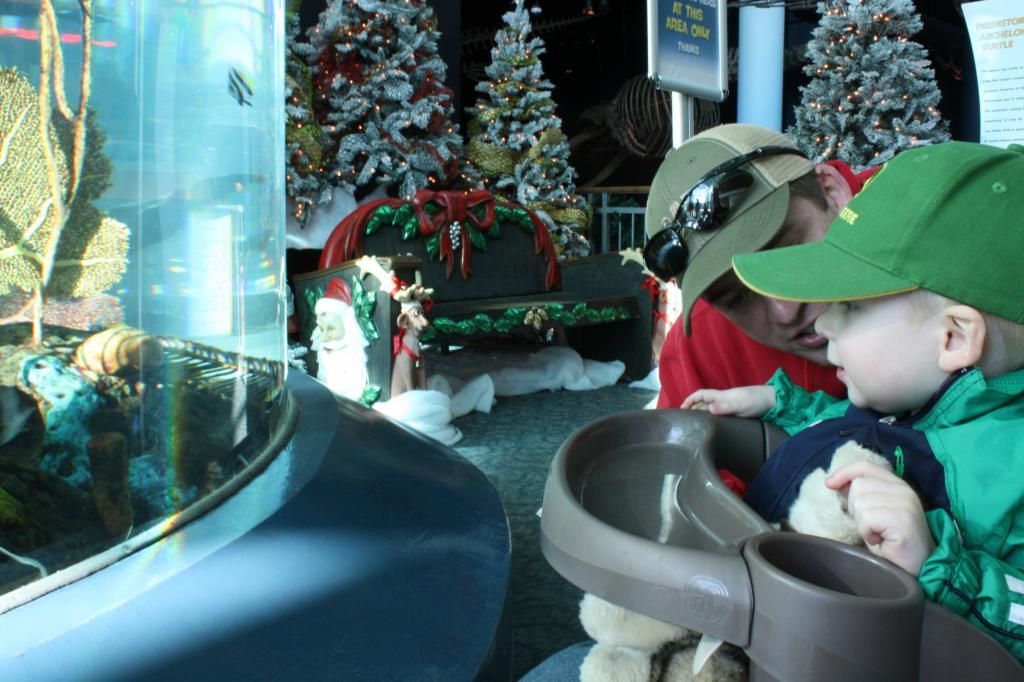 This was the first tank in the main entrance that he actually liked....it was all down hill from here.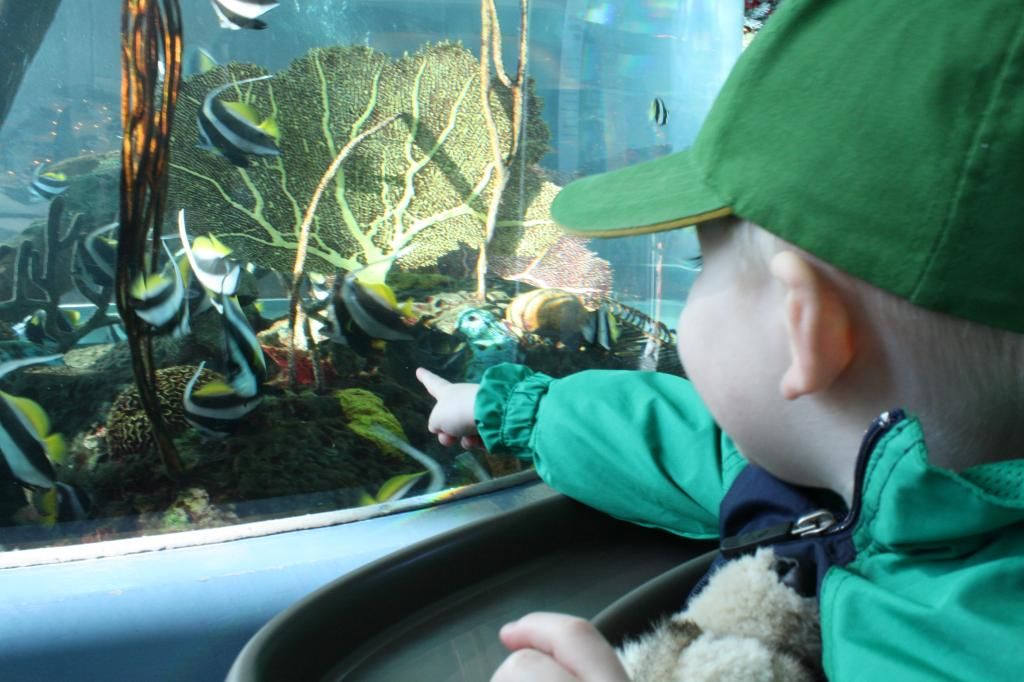 See what I mean about dark?
This is how he looked most of the time in the aquarium.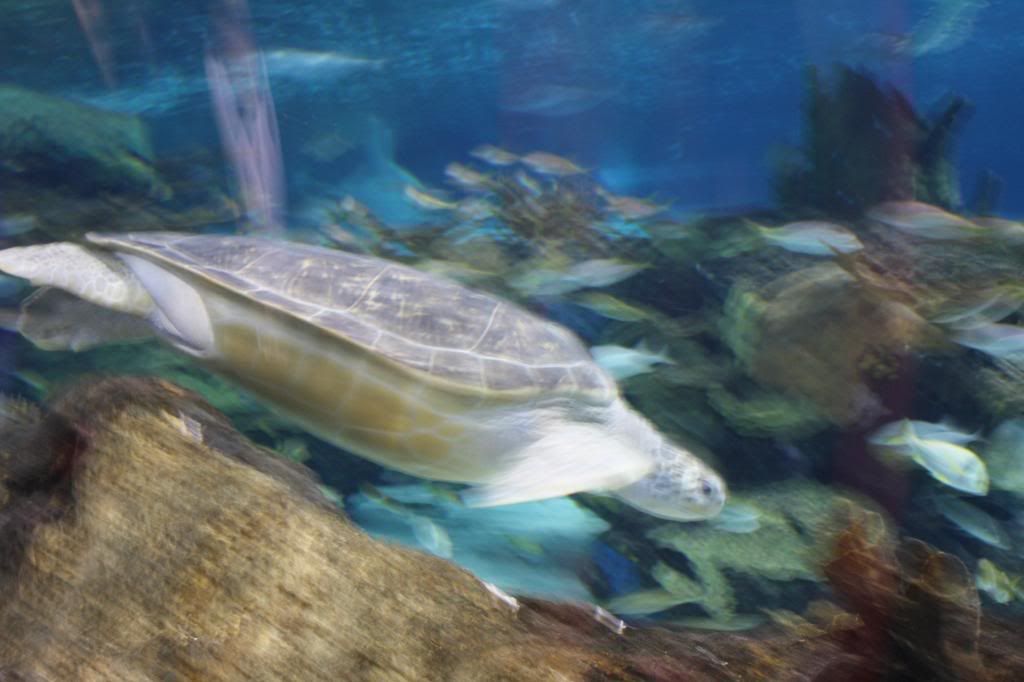 That night was not fun but his fever did break that night and then the head cold got worse. And he would not take any medicine from the cup and got very upset. None of us got much rest that night until he finally took some benadryl. Needless to say the next morning we packed up and were headed home by 7:00 that morning. We got home safely at lunchtime on Sunday and laid low. Thankfully his fever was all gone and he was eating a little better. It was a trip with some fun memories and some really bad ones. I think the main thing we learned was that we really need to research better about places we want to take him that cost a lot of money because he may not even like them. The $1 trolley ride that we thought of last minute was more fun for him than that big expensive aquarium. LOL
I will just end it with there is NO PLACE LIKE HOME!! Especially when your baby is sick!