This is my very first time to join a decorating link party in the big blogosphere so please cut me some slack on this one! I have enjoyed looking through these link parties on some majorly popular blogs in the past and I get so inspired by everything I see. I do not think I am anywhere near their league but I just want to share what I have done in my home to make it feel like Fall.
As I mentioned in a previous post, I am very excited to decorate for the holidays this year with little Jonah getting bigger every day. It is going to be fun seeing the holiday events through his eyes!
So without further adou here is my entrance table all decked out for Fall. I tried to keep it simple and the only thing I bought new for this year are the two pumpkins on the right. They actually came from the Dollar General store and were about $3 each. I already had the frame on hand but spray painted it white. I printed the Halloween subway art for free from another blog. I will post the source at the end. Then I have a fall table runner I got from Big Lots a couple of years ago and my flower arrangement all came from Wal-Mart's craft department a couple of years ago too. I hope you enjoy it!
I am linking up to Layla's Fall Mantle link party at The Lettered Cottage,
here
.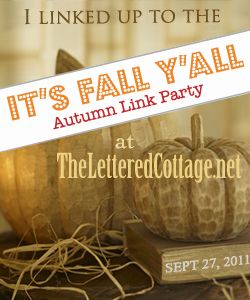 Source for suway print
here
.