I have been on a reading kick as of lately and have read several books that I really enjoyed. Two of them were random books I picked up at my local library and found that they were really wonderful. The other was one I planned on getting as soon as it came out.
Sparkly Green Earrings
by Melanie Shankle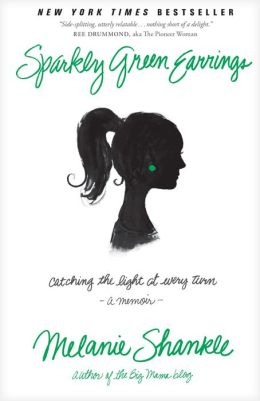 I follow Melanie's blog,
Big Mama
and love her writing. She writes so down-to-earth and you can really connect with her. This book is all about her journey into motherhood and the experiences she went through. It will have you literally laughing out loud and nodding your head a lot at some of the stuff she went through. I highly recommend if you are a new mom or a veteran mom.
Lost And Found: One Daughter's Story of Amazing Grace
by Kathryn Slattery
This book was one I just picked up at the library and brought home. I wasn't sure how it would be but I ended up loving it. It is a memoir (true story) of the author's life and relationship with her mother growing up and then as she is caring for her mother in her old age. It is heart-breaking and uplifting all at the same time. I personally have such a wonderful relationship with my mother but it was enlightening to read how a broken relationship with your mother can really mess you up if you let it. It is also a wonderful story of forgiveness and letting God into your life. I highly recommend it.
Sarah's Key
by Tatiana de Rosnay
This is another book I picked up on whim at the library, but after starting it, I realized it really is starting to be a popular book and on several people's "must-read" lists. This book affected me for weeks after I finished it. It is not a true story but the time period and the history of the events surrounding the story are true and did, in fact, happen in France. It is set during the Cold War and when the roundup of Jewish people occurred in Paris, France. It is the story through a child's eyes of that event and also switches to a current day story of a ex-pat writer/journalist living in France and uncovering family secrets that relate to the roundup. It will suck you in instantly and you will be changed by what you read. It is heart-breaking in a lot of parts and yet so redeeming too.
I am still in a reading kick so if I find some more I will post them too. Enjoy!